Know the bands that made Metal what it is today.
A lot of kids nowadays love heavy music and think that their generation came up with the music they listen to, so I've compiled a list of my top ten bands that shaped the world of Heavy Metal Music and set the bar for all other bands that followed.
10. Faith No More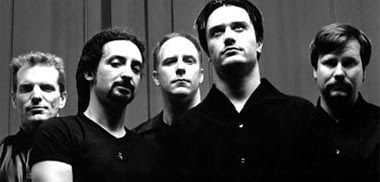 An alternative metal band that formed in San Francisco, California from 1982 to 1998, Faith No More combined elements of heavy metal, funk, punk rock, progressive rock, hip hop, and jazz, among many others, and have been hailed as an influential rock band for jumpstarting the Nu Metal scene which influenced most of the bands during that era (such as Limp Bizkit, Korn, Linkin Park, among others) primarily due to "Epic's popularity and its rap and rock crossover.
Bands rising at their prime, such as Metallica, Anthrax and Guns 'N Roses, have picked Faith No More as one of their favorite bands. They were voted #52 on VH1′s "100 Greatest Artists of Hard Rock".
Faith No More also became underground and alternative superstars and has also been covered on many occasions. The band Atreyu covered "Epic" in 2008. Their song Midlife Crisis is also featured as a b-side track of the band Disturbed's new album, Indestructible. Ill Niño covered Zombie Eaters on their The Under Cover Sessions EP. "Mouth To Mouth" has been covered as well by the band Tub Ring on their Book Of Water album.
Songs to listen to:
•Epic
•Midlife Crisis
•Falling to Pieces
9. Van Halen

American hard rock band formed in Pasadena, California in 1972. They enjoyed success from the release of their self titled debut album in 1978. As of 2007 Van Halen has sold more than 80 million albums worldwide and have had the most number one hits on the Billboard Mainstream Rock chart.
According to the Recording Industry Association of America, Van Halen is the 19th best selling band/artist of all time with sales of over 56 million albums in the USA and is one of five rock bands that have had two albums sell more than 10 million copies in the USA.
Van Halen is most known for its lead guiatarist's musical genious, Eddie Van Halen's two handed tapping technique revolutionized guitar solos. He is often called a guitar god by his peers.
Songs to listen to:
•Right Now
•Jump
•Unchained
8. Morbid Angel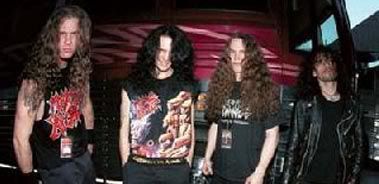 Founded by Trey Azagthoth, Morbid Angel helped define the Death Metal genre. By incorporating guttural vocals, up-tempo blast beats and dark, heavy guitar riffs, Morbid Angel moved away from the stereotypical Thrash Metal bands of their time and basically started the Death Metal Genre.
The only death metal band to enjoy commercial success, they even got their video featured in an episode of MTV's Beavis and Butthead episode.
Songs to listen to:
•Blessed Are the Sick/Leading the Rats
•Abominations
•Maze of Torment
7. Venom

Although hated by critics, fans of metal have always hailed Venom as one the the most influential bands that came out in the early '80s. Their second album, Black Metal, started a whole new genre of furious guitar riffs, angry shrieking vocals and throbbing bass and drum tracks.
The Black Metal genre will forever be credited to the trio of Abbadon (Drums), Cronos (Bass) and Mantas (Guitars)
Songs to listen to:
•At War with Satan
•Countess Bathory
•Black Metal
6. Metallica

Formed in 1981 in Los Angeles, California, by drummer Lars Ulrich when he posted an advertisement in a Los Angeles newspaper, Metallica's original line-up consisted of Ulrich on drums, rhythm guitarist and vocalist James Hetfield, lead guitarist Dave Mustaine, and bassist Ron McGovney. These last two were later ejected from the band, in favor of Kirk Hammett and Cliff Burton, respectively. This ejection resulted in a feud between Metallica and Mustaine.
In September 1986, Metallica's tour bus skidded out of control and flipped, which resulted in Burton being crushed under the bus and killed. Jason Newsted replaced him less than two months later. Newsted left the band in 2001 and was replaced by Robert Trujillo in 2003.
Metallica's early releases included fast tempos, instrumentals, and aggressive musicianship that placed them as one of the "Big Four" of the thrash metal subgenre alongside Slayer, Megadeth and Anthrax. The band earned a growing fan base in the underground music community, and some critics say the 1986 release Master of Puppets is one of the most influential and "heavy" thrash metal albums.
The band achieved substantial commercial success with its self-titled 1991 album, which debuted at number one on the Billboard 200. Some critics and fans believed the band changed its musical direction to appeal to the mainstream audience. With the release of Load in 1996, Metallica distanced itself from earlier releases in what has been described as "an almost alternative rock approach", and the band faced accusations of "selling out".
Despite reaching number one on the Billboard 200, the release of St. Anger in 2003 disappointed some critics and fans with the exclusion of guitar solos, and the "steel-sounding" snare drum. A film titled Some Kind of Monster documented the recording process of St. Anger.
Metallica has released eight studio albums, two live albums, two EPs, twenty-two music videos, forty singles and has finished working on its upcoming ninth studio album, Death Magnetic. The band has become one of the most commercially successful and influential heavy metal acts. With 100 million records sold worldwide, including 57 million in the United States, the band has won seven Grammy Awards, and has had four albums peak at number one on the Billboard 200. The band's 1991 album Metallica, has sold over 15 million copies, which makes it the 25th highest selling album in the United States.
Songs to listen to:
•Orion
•Four Horsemen
•Creeping Death
5. Megadeth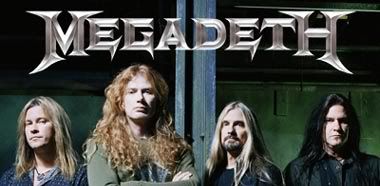 One of the founding fathers of Thrash Metal, Dave Mustaine has managed to set the pace for the Thrash Metal scene time and again. After being kicked out of Metallica for his drinking problem, Mustaine vowed to become faster, better and heavier than any band of that time.
Fueled by anger and desire to prove that he was the best at what he does, Mustaine formed Megadeth with Bassist Dave Eleffson, Drummer Gar Samuelson, and Guitarist Chris Poland.
Killing is my Business and Business is Good, Megadeth's first commercial album set the pace that would define the Thrash and Speed Metal Genre, but it wasn't until their second album, Peace Sells, But who's Buying, which was hailed as the most influential and definitive metal album by Allmusic, that Megadeth cemented their hold on the Thrash metal scene.
Songs to listen to:
•In My Darkest Hour
•Tornado of Souls
•Peace Sells, But who's Buying
4. Iron Maiden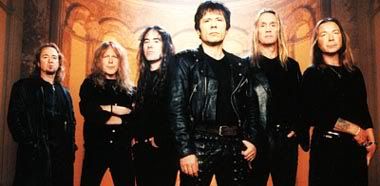 The band were formed in 1975 by bassist Steve Harris, formerly a member of Gypsy's Kiss and Smiler. Iron Maiden is one of the most successful and influential bands in the heavy metal genre, having sold over 80 million albums worldwide without significant mainstream or radio support. They are also often considered the leaders of the New Wave of British Heavy Metal movement.
The band won the Ivor Novello Awards for international achievement in 2002,[5] and were also inducted into the Hollywood RockWalk in Sunset Boulevard, Los Angeles County, California during their tour in the United States in 2005.
Although the band had a lot of lineup changes across the years, the lineup most fans associate Iron Maiden composes of Bruce Dickinson on Vocals, Nicko McBrain on Drum, Adrian Smith and Dave Murray on Guitars and Steve Harris on Bass.
Songs to listen to:
•Number of the Beast
•Run to the Hills
•Brave New World
3. Judas Priest

Judas Priest are an English heavy metal band formed in 1970 in Birmingham. Judas Priest's core line-up consists of bass player Ian Hill, vocalist Rob Halford and guitarists Glenn Tipton and K. K. Downing; their current drummer is Scott Travis. They have been cited as an influence on many heavy metal musicians and bands.
Their popularity and status as one of the definitive heavy metal bands has earned them the nickname "Metal Gods", from their song of the same name. They have sold over 35 million albums worldwide.
Songs to listen to:
•You Got another thing coming
•Breaking the law
•Hellbent for leather
2. Slayer

Founded by guitarists Jeff Hanneman and Kerry King in 1981, Slayer rose to fame as one of the leaders of the American thrash metal movement with their 1986 release, Reign in Blood, which has been called "the heaviest album of all time" by Kerrang!.
The band is credited as one of the "Big Four" thrash metal bands, along with Metallica, Anthrax, and Megadeth.
Slayer is known for its musical traits, involving fast tremolo picking, guitar solos, double bass drumming, and shouting vocals. The band's lyrics and album art, which cover topics such as death, deviants, genocide, necrophilia, insanity, religion, Satanism, serial killers, and warfare have generated album bans, delays, lawsuits and strong criticism from religious groups and the general public.
Since its debut record in 1983, the band has released two live albums, one cover album, one box set, three DVDs, one VHS, two EPs, and nine studio albums, four of which have received gold certification in the United States.
The band has received three Grammy nominations, winning one in 2007 for the song "Eyes of the Insane", and one in 2008 for the song "Final Six". They have headlined music festivals worldwide, including Ozzfest and The Unholy Alliance.
Songs to listen to:
•Seasons in the Abyss
•Rain in Blood
•War Ensemble
1. Black Sabbath

Perhaps the greatest metal band of all time, Black Sabbath started it all. Pounding drums, dark heavy riffs, topped off by Ozzy Osbourne's mocking vocals, Metal and all of it's sub-genre spawned from everything the band did. Even their on stage antics set the bar for generations of bands to follow. Black Sabbath set the template for what a metal band should be.
If you want proof of what Black Sabbath has contributed to Metal as a whole, just listen to the album "Nativity in Black – A tribute to Black Sabbath", there, bands from all metal genre did covers of their favorite songs, after listening to that album, try and chase down the original versions and you'll find that the songs played by the bands in the tribute album sound very much like their original work.
Without Black Sabbath, Metal will not be what it is today.
Songs to listen to:
•Black Sabbath
•War Pigs
•N.I.B
So who are your top picks for influential bands in Metal?
source: Wikipedia