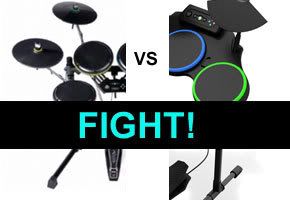 This article was guest posted by Aisu
Ok, I'm going to spill it without any fancy intro sentences and lines. Who is torn between purchasing the upcoming Guitar Hero World Tour and Rock Band 2 game?
Better yet, who is throwing out their lifetime savings on the plethora of peripherals that are coming out for the respective games in the months to come?
Money is almost always an issue when it comes to games like these especially with peripherals that cost twice as much as the game itself. Simply put, if you've got the cash then by all mean purchase everything and regret the choice later. For gamers who are strapped for cash, the dilemma is not as simple. Frankly, you're not going to enjoy the experience without the hardware so we here at Geekzkrieg have taken the liberty to lay all the cards down for you to make the choice between Guitar Hero World Tour and Rock Band 2 an easy one.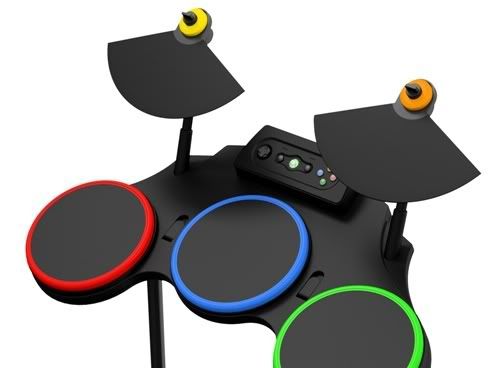 Round 1: Feature list
First we start off with GH: World Tour, which will be known as GH from this moment on for reasons of laziness. I don't have a knack for stating the obvious so I will no go on and point out that one of the features of the game is that it will let you play rocking tracks with a wireless guitar.
The most obvious improvement of this installment of GH is the addition of a music studio that will allow you to create, compose, record, share, and edit music. For music enthusiasts, this opens up a whole trove of possibilities. Get your creative juices flowing as you flatten a sharp, scale a riff, palm mute, and drum roll your way into music history.
With the addition of a drum set and microphone, GH will allow you to form a band and compete online in an eight player battle of the bands mode. Grab 3 other wannabe rockers and duke it out online to see which group is more wannabe than the other, tomatoes and boo's not included.
And for all you vain people out there, myself included, a customize an avatar feature has now been put in. Create your own personalized avatar and see yourself rocking on the biggest stages of the world. Edit your hair, makeup, clothes, and the works and create a splitting image of yourself that only your momma would be proud of.
Rock Band, RB from now on, has a pretty list of features as well that cannot be ignored. Aside from the usual rack of features, RB allows gamers to customize set lists, eliminating the chore of choosing a new song everytime, assuring you that your band keeps rocking 'til the wee hours of the morning.

Another nifty little feature that RB has over GH are the aptly named Tour challenges. Think of it as a mission mode, RB style. And that fact about DLC specific challenges? Intrigues me to the core…
RB does have the avatar customization too as well as a lot of common features between the two such as newly designed instruments (which will be discussed later), epic set lists, and new multiplayer modes.
I'd like to say that as early as now, GH World Tour wins the feature challenge, but that's just me. Months to go before release, RB may have some few aces up its sleeve.
 Round 2: Set Lists
Artist Song Title Decade

1. AC/DC "Let There Be Rock" 1970s

2. AFI "Girl's Gone Grey" 2000's

3. Alanis Morissette "You Oughta Know" 1990's

4. Alice in Chains "Man in the Box" 1990's

5. Allman Brothers "Ramblin' Man" 1970's

6. Avenged Sevenfold "Almost Easy" 2000's

7. Bad Company "Shooting Star" 1970's

8. Beastie Boys "So Whatcha Want" 1990's

9. Beck "E-Pro" 2000's

10. Bikini Kill "Rebel Girl" 1990's

11. Billy Idol "White Wedding Pt. I" 1980's

12. Blondie "One Way or Another" 1970's

13. Bob Dylan "Tangled Up in Blue" 1970's

14. Bon Jovi "Livin' on a Prayer" 1980's

15. Cheap Trick "Hello There" 1970's

16. Devo "Uncontrollable Urge" 1980's

17. Dinosaur Jr. "Feel the Pain" 1990's

18. Disturbed "Down with the Sickness" 2000's

19. Dream Theater "Panic Attack" 2000's

20. Duran Duran "Hungry Like the Wolf" 1980's

21. Elvis Costello "Pump It Up" 1970's

22. Fleetwood Mac "Go Your Own Way" 1970's

23. Foo Fighters "Everlong" 1990's

24. Guns N' Roses "Shackler's Revenge" 2000's

25. Interpol "PDA" 2000's

26. Jane's Addiction "Mountain Song" 1980's

27. Jethro Tull "Aqualung" 1970's

28. Jimmy Eat World "The Middle" 2000's

29. Joan Jett "Bad Reputation" 1980's

30. Journey "Anyway You Want It" 1970's

31. Judas Priest "Painkiller" 1990's

32. Kansas "Carry On Wayward Son" 1970's

33. L7 "Pretend We're Dead" 1990's

34. Lacuna Coil "Our Truth" 2000's

35. Linkin Park "One Step Closer" 2000's

36. Lit "My Own Worst Enemy" 1990's

37. Lush "De-Luxe" 1990's

38. Mastodon "Colony of Birchmen" 2000's

39. Megadeth "Peace Sells" 1980's

40. Metallica "Battery" 1980's

41. Mighty Mighty Bosstones "Where'd You Go" 1990's

42. Modest Mouse "Float On" 2000's

43. Motorhead "Ace of Spades" 1980's

44. Nirvana "Drain You" 1990's

45. Norman Greenbaum "Spirit in the Sky" 1960's

46. Panic at the Disco "Nine in the Afternoon" 2000's

47. Paramore "That's What You Get" 2000's

48. Pearl Jam "Alive" 1990's

49. Presidents of the USA "Lump" 1990's

50. Rage Against the Machine "Testify" 1990's

51. Ratt "Round & Round" 1980's

52. Red Hot Chili Peppers "Give it Away" 1990's

53. Rise Against "Give it All" 2000's

54. Rush "The Trees" 1970's

55. Silversun Pickups "Lazy Eye" 2000's

56. Smashing Pumpkins "Today" 1990's

57. Social Distortion "I Was Wrong" 1990's

58. Sonic Youth "Teenage Riot" 1980's

59. Soundgarden "Spoonman" 1990's

60. Squeeze "Cool for Cats" 1970's

61. Steely Dan "Bodhitsattva" 1970's

62. Steve Miller Band "Rock'n Me" 1970's

63. Survivor "Eye of the Tiger" 1980's

64. System of a Down "Chop Suey" 2000's

65. Talking Heads "Psycho Killer" 1970's

66. Tenacious D "Master Exploder" 2000's

67. Testament "Souls of Black" 1990's

68. The Donnas "New Kid in School" 2000's

69. The Go-Go's "We Got the Beat" 1980's

70. The Grateful Dead "Alabama Getaway" 1980's

71. The Guess Who "American Woman" 1970's

72. The Muffs "Kids in America" 1990's

73. The Offspring "Come Out & Play (Keep 'em Separated)" 1990's

74. The Replacements "Alex Chilton" 1980's

75. The Who "Pinball Wizard" 1960's

Bonus Artist Bonus Song Title Decade

76. Abnormality "Visions" 2000's

77. Anarchy Club "Get Clean" 2000's

78. Bang Camaro "Night Lies" 2000's

79. Breaking Wheel "Shoulder to the Plow" 2000's

80. The Libyans "Neighborhood" 2000's

81. The Main Drag "A Jagged Gorgeous Winter" 2000's

82. Speck "Conventional Lover" 2000's

83. The Sterns "Supreme Girl" 2000's

84. That Handsome Devil "Rob the Prez-O-Dent" 2000's

Eagle Rock High School Tour:

"Dope Nose" by Weezer

"The Middle" by Jimmy Eat World

Encore: "Today" by Smashing Pumpkins

 

Big City Kids Tour:

"Roland" by Interpol

"Santeria" By Sublime

Encore: "Mr. Brightside" by The Killers

 

Feelin' Nostalgic Tour:

"Take It on the Run" by REO Speedwagon

"Hold the Line" by Toto

Encore: "Rebel Yell" by Billy Idol

 

Vixens Tour:

"Heartbreaker" by Pat Benatar

"All Around Me" by Flyleaf

Encore:"Misery Business" by Paramore

 

Undertow Tour:

"Stinkfist" by Tool

"Lateralus" by Tool

"Schism" by Tool

 

Synchronicity Tour:

"Guitar Battle Vs. Sting" (Guitar Career Only)

Encore: "Every Breath You Take" by The Police

 

Fight the System Tour:

"The Kids Aren't Alright" by The Offspring

The Good Left Undone" by Rise Agaisnt

Encore: "Bleed it Out" by Linkin Park

 

QQ Tour:

"Face Down" by The Red Jumpsuit Apparatus

"The Kill" by 30 Seconds to Mars

Encore: "Thank You for the Venom" by My Chemical Romance

 

Rockin the Carnival Tour:

"Dammit" by Blink 182

"When You Heat Stops Beating" by +44

 

Neva' Forget Tour:

"Jumpin Jack Flash" by The Rolling Stones

"Don't Fear the Reaper" by Blue Öyster Cult

Encore: "Light My Fire" by The Doors

 

We Want the Funk Tour:

"Give it Away" by Red Hot Chili Peppers

"Renegades of Funk" by Rage Agaisnt the Machines

Encore: "No Sleep till Brooklyn" by The Beastie Boys Feat. Kerry King

 

Rockin' the Joint Tour:

"Are You Gonna Go My Way" by Lenny Kravitz

"I Don't wanna Miss a Thing" by Aerosmith

 

On Top of the World Tour:

"Man in the Box" by Alice in Chains

"Kickstart My Heart" by Mötley Crüe

Encore: "Spin the Black Circle" by Pearl Jam

 

G. Stinger Tour:

"Smells Like Teen Spirit" by Nirvana

"Car Chase City" by Tenacious D

Encore: "Everlong" by Foo Fighters

 

Lands End Tour:

"Animal" by Def Leppard

"Runaway" by Bon Jovi

Encore: "Paradise City" by Guns N' Roses

 

Doin' it Different Tour:

"Song for the Dead" by Queens of the Stone Age

"Vasoline" by Stone Temple Pilots

Encore: "Assassin" by Muse

 

Hootin' and Hollerin' Tour:

"The Boys Are Back in Town" By Thin Lizzy

"Life in the Fastlane" by The Eagles

Encore:"Sweet Home Alabama" by Lynyrd Skynyrd

 

All Pissed Off Tour:

"Here to Stay" by KoRn

"Dragula" by Rob Zombie

Encore: "Bat Country" by Avenged Sevenfold

 

Here Me Roar Tour:

"10,000 Fists" by Disturbed

"Duality" by Slipknot

Encore: "Toxicity" by System of a Down

 

S.D.M.F. Tour:

"Guitar Battle Vs. Zakk Wylde" (Guitar Career Only)

*Encore: "Demise of Sanity" by Black Label Society

 

Fathers of Metal Tour:

"Don't Talk to Strangers" by Dio

"Heaven and Hell" by Black Sabbath

Encore: "Crazy Train" by Ozzy Osbourne

 

Making Progress Tour:

"The Spirit of Radio" by Rush

"Comfortably Numb" by Pink Floyd

Encore: "Pull Me Under" by Dream Theater

 

Eruption Tour:

"Beat it" by Micheal Jackson Feat. Eddie Van Halen

"Hot for Teacher" by Van Halen

 

Tooth Fang & Claw Tour:

"Guitar Battle Vs. Ted Nugent" (Guitar Career Only)

Encore: "Stranglehold" by Ted Nugent

 

Decades of Metal Tour

"Warriors of Time" by Black Tide

"Leather Rebel" by Judas Priest

Encore: "Hallowed be Thy Name" by Iron Maiden

 

Livin' in a Nightmare Tour:

"Angel of Death" by Slayer

"Tornado of Souls" by Megadeth

Encore: "Master of Puppets" by Metallica

 

Legends of Rock Tour:

"Johnny B. Goode" by Chuck Berry

"The Wind Cries Mary" by Jimi Hendrix

Encore: "Purple Haze (Live)" by Jimi Hendrix

 

Bonus Tour:

"45″ by Shinedown

"96 Quite Bitter Beings" by CKY

"Bombshell" by Powerman 5000

"Clavado en un Bar" by Maná

"Enjoy the Silence" by Lacuna Coil

"Feuer Frei" by Rammstein

"Fury of the Storm" by Dragonforce

"Never Too Late" by The Answer

"Nottingham Lace" by Buckethead

"One Armed Scissor" by At The Drive-In

"Satch Boogie" by Joe Satriani

"Schrei" by Tokio Hotel

"Soul Doubt" by NOFX

 

"We're An American Band" by Grand Funk Railroad

"Guitar Battle Vs. Sting" by Sting

"Guitar Battle Vs. Ted Nugent" By Ted Nugent

"Guitar Battle Vs. Zakk Wylde" by Zakk Wylde

 

Sample Songs:

"Untitled Drum Sample" created by Chad Smith

"Untitled Drum Sample" created by Dave Grohl

"Untitled Drum Sample" created by Travis Barker

"Cliffs of Dover" created by Neversoft

"Misirlou" created by Neversoft

"Walk This Way" created by Neversoft

"YYZ" created by Neversoft
Looks good huh? Well unfortunately for GH fans, this allegedly leaked setlist is a fake, a phony, wrong, fail.
Round 2 clearly goes to RB. AC/DC > GH fake set list, and with all those downloadable content from RB1 to be compatible with the new game, RB set list is a winner as of the moment.
Round 3: Peripherals
 Kicking it off for the peripheral battle would be RB. Honestly? The RB guitar failed, big time. The strum bar was mushy, the buttons didn't stick out as much… but to give credit where credit is due, it is well built and the design was very well made. Form over function I guess.
This time around, the RB guitar is back and better than ever… Or is it too soon to say? The buttons look like they are still on the same level as the fret board which makes distinguishing them much harder. Here's hoping the strum bar is improved… Well, at least the guitar itself still looks and feels like a million dollars, or 70 to 80$ to be exact.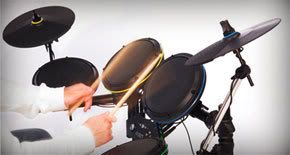 The RD drums on the other hand… have you seen this bad boy? Jesus Christ, now this is how drum kits should be. Sleek black color, full drum pads and cymbal set, the works. How much you ask? A measly 300$, acceptable considering the drum kit can be used as an electronic drum kit when plugged elsewhere. Win here.
On to GH and well, the guitar, for which GH was really made for is a looker. Sleek wood finish, strum bar and buttons that we have come to know and love from previous GH installments, a new tap board section for those ridiculous riffs, anything else? This peripheral will not disappoint.
First venture into the drum kit arena, GH has created a pretty drum kit to go along with their pretty game. Although not as elaborate as the RB drum kit, the GH kit looks sturdy, is wireless, and offers cymbal pads to give players a more immersive feel to the whole band experience.
Take note that not all peripherals are compatible with both games. Putting it simply:
          RB1 instruments will be compatible with RB2.
          GH instruments will be compatible with GH World Tour.
          RB1 instruments will be compatible with GH World Tour.
          RB2 instruments are not compatible with GH World Tour as of the moment.
Verdict
GH World Tour is looking to be a winner as of the moment and people are waiting with bated breath for the official track list to be released. This plus the fact that GH games are not region locked, expect World Tour to penetrate most of the market that cannot play the almost sure region locked RB. RB has an epic set list to go along with it, rocking drums, and loads and loads of content that will make your wrists bleed notes before you play all the songs but seeing as how the first RB was a region locked game, market penetration isn't that deep as compared to GH. I'm Sold on both games and if my money permits, I will definitely get those sweet RB drums and the GH guitar, here's hoping compatibility issues are thrown out of the window by the time both games are released. See you rocking online!
Editor's Note: Aisu is an avid gamer and would one day want to learn Italian! Duh! He's also a regular contributor to various gaming magazines and works professionally in a gaming company. Thanks, Aisu! Looking forward to more posts from you in the future.