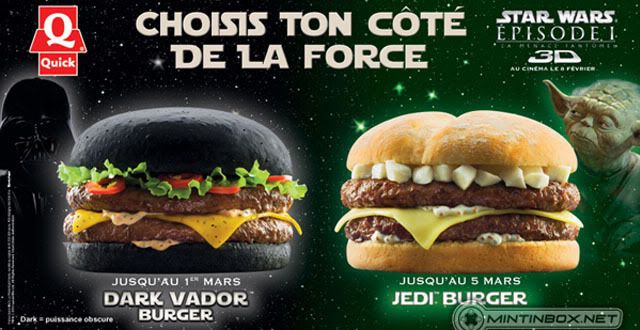 The Dark Side never looked this appetizing.
A French fastfood chain called Quick will be offering Star Wars-Themed Burgers to coincide with the 3D re-release of Star Wars Episode I: The Phantom Menace!
The Jedi Burger is appropriately plain and old-fashioned, while the Darth Maul-themed Dark Burger looks to be peppered with spicy evil. But what blows them both away is the "Dark Vador Burger", which looks positively infused with the infamous Sith Lord's hate and anger that it turned its very bun jet-black like his heart.
That's right. A black-bunned burger. A stroke of both genius and crazy!
Unfortunately, it seems that only France will get to taste this deliciously evil burger and its goody-goody counterparts, leaving the rest of us to just drool and imagine what a black bun tastes like.
Photo and info via Mintinbox (French).