After the weathering and damaging the Zaku, it's time to do the opposite and have "bling-bling" paint for my new model kit – an AMT/ERTL 1997 Ford Mustang muscle car (1:25 scale).
One of the challenges in doing is kit is trying to be patient. There are a lot of paint layers and they each have to dry and cure before applying the next one. And, like a real car, you have to do perfect priming, examine the body and then do putty jobs, wet sanding and more wet sanding before the actual painting of the body can begin.
After finishing the Zaku project, I worked on the car right away. That was Valentine's Day, to be exact. Of course, I didn't forget the wife to trade her for modeling. Well, after a dinner date, I finally went to the workshop and opened the box.
I got this kit off ebay.ph for around P700. Not bad for my first 1:25 model car. Like any modeling project, it's important to do research. Scouring the web with my good friend, Google, I was able to find some nice real-life reference photos of the 97 Mustang…
The goal is to try to study the actual car to see details such as the engine, the wheels and various paint schemes and colors.
After doing initial research. Here were my options on painting
Paint the body with Tamiya spray cans – there were more pastel colors available with this option. The problem is, I'll prolly burn through 2 to 3 cans with the various layers, and that's expensive.
Using automotive paints – I recently went to Ace hardware to check out automotive spray cans. At around P200 each, it was a viable plan. The option was to "decant" the spray cans and then paint it with the airbrush. I kinda liked the Yamaha Red I bought.
Airbrush it with Acrylics – the Tamiya red is kinda pale and bland. Plus, in order to get a metallic finish, I'll have to spray on a metallic base coat on it before layering in the red. However, I just purchased a metallic blue acrylic for my Mazinger Z kit… that's also an option. So many choices! Dang!
I'll worry about painting later, I'll have to assemble the model first. Let's check the progress build below…
Feb 14, 2009
The AMT ERTL kit has a lot of "flash", these are the left-over plastic at the edges from the injection process at the factory. It took me many hours of sanding, filing and various test-fitting just to complete the body and the engine… time which could have been spent on painting. Damn! My arms ached from all that sanding. After sanding, I seprated the small parts into the various colors
After cutting out the parts, it's time to mask off some of 'em in preparation for painting…
After sanding, it's time to wash the body with Joy dishwashing detergent and lotsa water. It's important not to wipe it with ANYTHING, just allow it to dry naturally. Wiping it with cloth or tissue may leave lint on the body which will damage your paint.
Here's a shot of the body drying out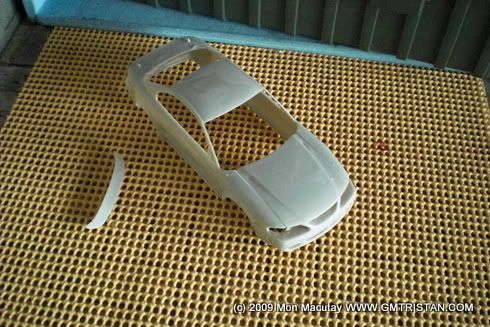 Using Tamiya spray cans, I painted the glossy black parts that night. Here's a shot of the axle
And the engine painted aluminum and semi-gloss black
And look at the cool wheels all chromed out! Woot!
Feb 15, 2009
It's primer time!
The primer is a mix of Tamiya Surface Primer (great stuff!) thinned with Gunze Mr. Color lacquer thinner.
Primer all done. GM T Tip: Use an old Gatorade bottle with water and blue-tack the body to it as a base for painting.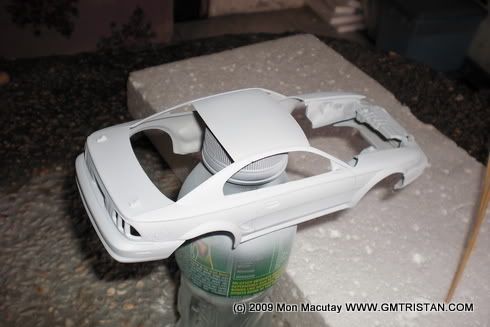 I let it dry overnight…
Feb 17, 2009
Once the primer dried, it was time to wetsand the body with 1200 grit sandpaper. Here's the finished product all ready for putty work and the base coat of white… that's even BEFORE any color is applied. Sheesh!
Meanwhile, it was time to do some putty work on some seams and imperfections. I used Tamiya White Putty purhased at Lils (around P220)
Just apply it using a plastic spatula to the parts. The bumper had a huge seam due the improper fit of the plastic mold
And so did the flooring of the chassis
I let this dry overnight for ultimate curing.
Feb 18, 2009
Tonight, the putty's all cured and it's time to for some tedious sanding work. Using a 400 grit sand, I initially trimmed the excess putty away and then wet-sanded it with 1200 finer grit. Here's the bumper nice and smooth…
Tomorrow or the weekend, it's time to apply the white base coat and then do the paint layers for the body…
Saturday, Feb 21, 2009
Today, I met friends Alex and Jeff and went to Greenhills. There, we got some paint, took a short trip to the hardware store (Ace) for thinners, sandpaper and bought a German-made Dremel kit for P1,500.00. It's a great find. I finally have a Dremel (rotary tool) for future projects. We then went to my place to do some serious modeling the entire day. Alex worked on his Slave 1 and Jeff did repairs and re-painting of his MG Exia gundam.
Meanwhile, I did some masking of the car, painted some engine parts and started to do the first two "mist coats" (lightly spraying it over the white coat) for the car body.
Of course, I took tons of pics but I still haven't uploaded it. I'll be updating this post sometime this week for more, ayt?
…until then.
GM T